Help, I'm Out Of Storage Space!
We've all been there. We need more space. We can't get the car in the garage any more. We can't find what we need because it's piled under other stuff. Or, perhaps we need room to work on a new hobby, or start that small side business we've always dreamed of. Have the neighbors complained about all the kids outdoor toys actually being outdoors all the time? For whatever reason, you're out of space. Should you move to a bigger place, have a huge garage sale, or give up your dreams? Downsize, and move to the woods someplace, perhaps?
Don't give up just yet! Have you ever considered a storage shed?   If you have even a small space on your property that is accessible and not being used, a storage shed from Pumpkin Patch Market may be the answer you have desperately been searching for.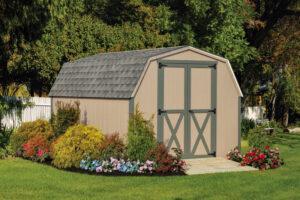 Identify Your Storage Needs
The first step in planning for an additional storage shed is to identify what you really need it for. Many times, figuring out what will return the most for your investment is the way to start. Is your riding mower being destroyed by being outside all the time? Do you have a need to organize a large number of small items for quick and easy access? Perhaps you need to turn that storeroom in the house into a new bedroom, hobby room, or office. Adding a shed to your storage options can turn out to be the most economical and useful in the long run. It is often cheaper than remodeling your home, it can protect your investment in expensive items, and you can change what you use it for as your lifestyle and needs change.
Many times, you have multiple needs for additional new space. A simple utility barn design can be built a bit larger and divided into more than one space. Put the garden tools in one end, and the workshop in the other. The options for solving your storage needs are almost endless.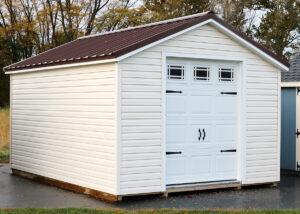 Sheds Are Not Just For Storage
Sometimes, we just need more space for activities, but don't actually need it to be in our home. If you want a place for your kids to play outside when the weather isn't the best, where they can just walk out and shut the door when they are done playing, have a backyard storage shed built as a playhouse. Have a porch built on for shade, and a poolside storage building can become a barbecue and snack center. With insulation, electricity installed, and plenty of windows, a shed can become a woodworking shop or an art studio that can be used year round. Here at Pumpkin Patch market, we have many options for larger sheds that can accommodate several of your needs at the same time.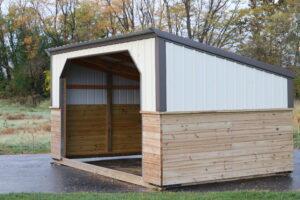 We also have sheds that are designed to be used as a greenhouse, animal barn, chicken house, a two car garage, or just a mini barn to store some shovels and rakes. We have styles that look like a log cabin, ranch home, or a chalet style building, and many of our shed designs can include an inviting porch.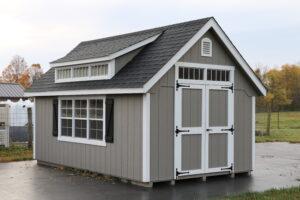 Locally Amish Made Sheds, With Quality First
You've seen them before. A sales lot full of sheds of all shapes and sizes, selling for unbelievably low prices. Just pay the price and get it delivered today! But you owe it to yourself to stop and take a look at what you are getting for your money. Buying a shed from Pumpkin Patch Market means a solid investment that will last for many years, and can be designed to fit your needs, both now and in the future.
All our sheds are made by a local builder, Kuhns Storage Barns near Nappanee, Indiana. Built by Amish craftsmen who don't have making a quick profit as their primary goal, their mission is to create a high quality product that you can trust will last for many years to come. They don't scrimp on quality materials or workmanship, and they strive to build a shed that is just what you want, a shed that will be an asset to your home, and a joy to use. We have found Kuhns Storage Barns to be a reliable source of sturdy, well made, investment quality storage solutions.
Getting Started On Your Shed Design
By now you are probably wondering just what makes a shed from Pumpkin Patch Market stand out from the crowd. Let's get into a few of the specifics so you can better decide what will work for you.
Although we specialize in giving you a completely customized shed, there are some design features that are somewhat standard. Our shed sizes range from 10'x16' or 12'x20', up to larger sizes, such as 16'x40' or 32'x40'.  A simple peaked roof with a 4/12 pitch is standard, with other styles available. The side walls usually come in 6' or 7' heights, but can be taller if your intended use calls for a higher ceiling. You can also have an upper story or loft if you prefer.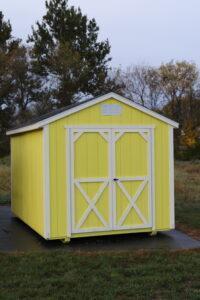 Our sheds are constructed using premium grade 2"x4" lumber. Walls are constructed of Duratemp siding, which is real wood siding that is easy to paint, and withstands exposure very well. It is stronger and lighter than most other siding materials, and since it is made from real wood, is an environmentally friendly renewable resource.
The standard shed floors are made of 2"x4" joists, 16" on center, laid on treated 4"x4" runners, with a 5/8" tongue and groove plywood floor. A heavy duty option uses 3/4" plywood, over 2"x4" joists on 12" centers.
Architectural shingles are usually chosen for our roofing material, but we can also install metal roofs.
More Shed Options, Please
Although all the options for a shed from Pumpkin Patch Market are to numerous to mention here, we will discuss a few that can be helpful during the design process, as you are deciding how you can best use your shed.
The amount and style of windows you want will vary depending on the planned use of the shed. If security is an issue, you don't need any windows. If style, or having enough light to work inside is a  priority, you can have multiple windows installed wherever you need them.
Entry doors can be of any size, and can be either a simple wood door, or a house style door with a window. Other door styles depend on the intended use, and the size of anything you may need to store inside the shed. You can choose from double entry style wood doors, garage doors, roll-up doors, and an ingenious type of door that has an included ramp that drops down to the ground when you open the door, allowing you to drive your mower or 4-wheeler inside. This option means you don't have a permanent ramp to work around on the outside, although that is also an option if you prefer.
We can also install electrical wiring inside your shed, and plywood or tongue & groove paneled interior walls. There are more options available for customizing the interior, such as shelving, workbenches, and lofts with access ladders. Of course, you are free to further customize your shed after we have installed it, adding such features as lights, fans, heat & AC, plumbing, or whatever you need to make it work for you.
Can I Make My Shed Look Nice, Too?
No matter how well made an outside storage shed may be, you want it to look good as well. You don't want it to clash with your home. It should enhance the value of your property, and fit in with your style, giving a look that is not only inviting, but exhibiting an attention to detail that everyone will admire.
Perhaps the best place to start is on the ground. The type of pad or foundation a shed sits on can greatly influence the way it is perceived, as well as how long it will last. Our sheds work best on some sort of pad or support. Even though our skids and floor joists are treated, they are not waterproof, and to get the longest use, the shed should be supported by cement blocks or a gravel base, which we can supply. Of course, the best option is a cement pad, which not only looks more solid, but gives the best support and protection from the elements. Although we do not install cement pads, we can assist you in deciding what type you need.
We can trim out your shed to match your home. If your home has a cupola, ridge vents, or a weather vane, no problem. The options to match your homes colors are wide open. We can usually install the same vinyl siding you have on your home. If you just want the walls painted, we have the capacity to match most paint colors. We can install metal siding to match your home, and even if you live in a log cabin, we have a log siding option!
When it comes to roofing, we can almost always locate the same shingles you have on your home, or we can install a metal roof if you prefer, in any available color. If you decide your shed would look better with a roof overhang, or gable braces, that is also something we do.
Attention To Details
At Pumpkin Patch Market, we don't want to sell you a shed every 5 years, none of which you are really satisfied with. We would rather sell you one shed that lasts many years, that you are happy with. That's why we insist on the highest quality building standards and include construction details you may never notice. We use sealer to keep rain out of the window and trim areas. We paint our trim on all sides, so any water that does get behind it never contacts raw wood. After you put your faith in us, and spend the time to design your dream shed, we want it to perform the way you expect it to. Our word is our bond, we simply won't build you a second-rate shed.
I'm Interested In Ordering A Shed, What's Next?
If you want to do some preliminary designs, you can go on our website, pumpkinpatchmarket.com, and try out our 3D Shed Builder software. It allows you to get an idea of what your shed might look like, and you can use it to test your ideas. Of course, the best way to get your shed design on track is to visit us at our store. We will walk you through the design process, from deciding on a budget, to choosing from our 30 basic shed styles, and on to customizing it just the way you always pictured it.
Although we normally sell our sheds in a 100 mile radius from our store, please contact us if you are further than that. Usually, if you order a shed we have on our lot, it takes about 7-10 days to get it to you. Custom built sheds can take 3-4 weeks, depending how busy we are. Once we get the shed to your site, it can take anywhere from a few minutes to several hours to get it placed where you want it. Any site preparation such as a gravel pad or concrete slab will have been done previous to the arrival of the shed.
If you are not located close to us, it is a good idea to contact us by phone or email, to make sure we will be here to assist you. We don't want to miss you, and look forward to working with you to solve your storage or space needs today.
Visit Pumpkin Patch Market
We're located between Middlebury and Shipshewana, IN
Holiday Hours
Our regular store hours are M-F 9-5 and Sat 9-3. Our store will be closed from Nov 26-29 for Thanksgiving and Dec 24-Jan 2 Christmas and New Years.
Call 574-825-3312 to place an order, stop in 10532 US Hwy 20 Middlebury, IN 46540 Hours: Mon-Fri 9-5, Sat 9-3 or shop online at www.pumpkinpatchmarket.com